Disclaimer; the procedures in this article could expose you to electricity that could kill you if you do something stupid.  If you're not comfortable with that, hire an electrician to do this.
I recently purchased a CyberPower OL3000RTXL2U (aka OL3000) UPS for home use.  The long fancy model number basically just means it's an online UPS, 3000VA capacity, 2U size if you're rack mounting it.  By online, I mean a true double conversion UPS where incoming electricity is converted to the relevant DC battery voltage to charge the batteries, then an inverter on the other side of the batteries converts the outgoing DC current back to 120VAC.  The benefits are elimination of EFI/RFI interference, no transfer time from line to battery since the power is always going through the battery, and it will happily run downstream from a generator while still spitting out pure sinewave power.  That last point was my primary reason for the purchase; I have a noisy backup generator and whenever power goes out, the standby UPS's just flip flop off and on until they ultimately self destruct.  Online UPS's happily take the poor quality generator power in and give you the good stuff on the other side for your devices.
Anyway, the CyberPower was purchased over a similar APC or TrippLite unit because of price; it's cheap, under $1k.  The secondary reason is that it has an L5-30 plug, which I needed.  Lower VA-rating UPS's generally don't have those so they ruled themselves out.  Here's the unit on Amazon:
Now the whole point of writing this post; the NOISE.  Jesus Christ this UPS is noisy.  It sounds like my wife blow drying her hair if you're in the same room with it.  I didn't want to relocate the UPS, but it was being put to use in an area within ear shot, and everyone found it quite annoying.  I set out to see if I could quiet it down so I broke out the screw driver and went from there.
What you'll find inside when you pop the top is an Aavid PSAD18025BH 80mm fan at the rear.  This is a fast 5100rpm fan that moves just under 70CFM of air through the UPS when it's in line mode.  If power goes out and it is running entirely off battery, there is a second one of these fans at the front of the case that also cranks up so it doesn't overheat.  Since the second one is not normally operating, I didn't spend any time on that one.
For the rear fan, I was going to try a few alternative 80mm fans scavenged from retired servers, but those were all equally high rpm models and just as noisy.  I looked online at a bunch of fans meant for PC gamers and builders, but unfortunately all of the 80mm fans meant for that market run at a much lower rpm, to achieve quieter running, which in turn means a much lower CFM air movement.  I figured going that route would be a very bad idea since the box would heat up a lot more.
What I ended up doing was adapting a 120mm fan to this system.  If you run this unit in a vertical configuration, or a rack mount configuration where you have an extra U of space above and below it, then you can use my solution to achieve the same air movement and dramatically reduce the sound generated.  Here's the ingredients you need:
Philips head screw drivers of varying size (small for case screws, larger for fan screws)
Xacto knife or box cutter
You're certainly free to swap the fan out for one that you prefer, but I tried four and the Cooler Master was the quietest option that moved the same CFM as the stock fan, so that would be my recommendation.  If you do use another, do NOT purchase a four pin fan meant for a gaming system where it has a PWM lead for the motherboard to control the speed of the fan; those will not work.  You need a three pin fan where there's just positive, ground and what is typically a yellow lead which is a tachometer.  The UPS uses the tach lead to determine that the fan is still running.  I fired it up with that lead disconnected and it would beep regularly about a fan failure.  I've heard that it may be possible to short that lead to ground to not need it if you have a two pin fan, but don't do that, there's plenty of good three pin fans that solve the problem and you don't want it failing without knowing.  My fan tests included the following: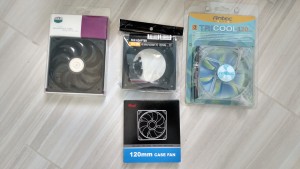 Here's the steps on my 'upgrade':
Unplug the unit and also disconnect the batteries (which unfortunately means undoing the front panel (two screws) and the plug (more screws)).  Would have been nice if there were just a battery plug you could easily yank without needing a screw driver; APC does it like that.
Pop the case open.  There are three screws on the front top edge, three down each side, two top edge screws on the back.
Disconnect the current fan from the case by removing its four exterior rear screws, but do not try to yank its power lead off yet.
Disconnect the cover over the battery expansion block; this is to the lower right of the existing fan looking at the UPS from the back.  The cover won't be able to go back on and unfortunately this will also prevent you from adding a battery expansion later.
Remove the cover plate for the SNMP card slot; it can go back on later.
Inside, you'll find that the fan power lead is likely hot glued to both its socket and an adjacent capacitor on the system board, so if you try to pull it out, you'll damage the capacitor in the process.  This is where you need the Xacto knife or box cutter.  I used a box cutter but the knife would be easier.  I would recommend against a soldering iron or other hot object to try and melt your way through as it could damage the capacitor.  With the box cutter, not applying very much pressure (since doing so moves the capacitor), I slowly 'chipped' away at the glue from the edge until I had removed enough that I could just press the razor through the remaining bit to free the plug from the capacitor.  Then I removed any excess that was holding the plug into the socket until I could yank it out.  I'll include some pictures (click for full size).
Before cutting into the glue:

Starting the cut:

Now that you've got the old fan removed from the case, you need to prepare the new fan.  The connector on the system board is not the same as what your fans will come with.  It's an odd connector and an odd pin out.  You need to remove the socket (aka pin header) from the system board; this is the plastic thing the old fan plug used to plug into.  It will yank off, just give it a little force and it will slide off the pins.  Try to avoid using pliers since you'll be very close to components that could be damaged.
Next step is preparing the fan power connector.  The default for a 3-pin PC fan lead is to have the wires go tachometer, positive, negative if looking at the connector from the side with the exposed metal squares; opposite the side with the plastic ridges.  You're going to remove two of the three leads, but DO NOT remove all three or you'll never know which ones are which because this fan uses a stupid cable that is not color coded, so if all three come out, you won't know left to right.  Anyway, you need to press reasonably hard with your razor blade into the metal squares to release the positive and tach leads out of the connector; this will be the left and middle slots, not the one on the right which stays in the connector.  Don't give it too much force, just enough to let you yank those two cables out of the connector.  Once out, you may need to bend the cable leads back out a little if you flattened them while trying to remove them.  Insert them back in opposite order where the positive (middle) is now on the left/outside of the connector opposite the negative, and the tach is in the middle.  Make sure they're in there securely.
Use the self-threading screws that come with the fan to screw it into the 80mm to 120mm fan adapter.  These are screws that look a little short and stubby and have reasonably course threads.  MAKE SURE you pay attention to the fan direction marking on the housing of the fan.  This fan needs to be installed in a pull configuration, so the arrow indicating air flow needs to point away from the adapter you're screwing it to.  Thread the power lead through the other side of the fan housing, and through the adapter out the 80mm side, then attach the fan to the adapter housing.  When attaching it, do not over torque the screws, you don't need to.
Once attached, use the screws that came out of the original CyberPower fan to screw from the INSIDE of the UPS through into the adapter's 80mm holes on the outside of the case.  The top two are very easy.  If you choose to attach the bottom two, you'll need a very long screw driver because you won't be able to get the correct angle to do it from in the case.  I ended up leaving the bottom two out as it had a pretty good seal regardless.
Plug the new fan connector into the three leads poking out of the system board.  The negative should be the left-most lead looking at the UPS from the front; i.e. connect it where the ridges of the connector face the front of the UPS, not the back.  Don't use too much pressure, it will slide on easily.You won't see the ridges in my connector image because I had sliced them off originally thinking it might fit in the stock socket, but it didn't.  The ridges would have been on the side that is visible in this picture.


Tie the excess fan wire up so it can't get sucked into the fan.

Power it up and test it.  The front fan may initially come on and make a bunch of noise but then it should calm down and be nice and quiet.  If all is well, power back down, put it back together, put the cover back on the SNMP slot and throw it in the rack or vertical mounts.
Let it run for a bit and check the temp via the LCD panel.

Now you have a MUCH quieter UPS with the same air throughput as you started with.  If CyberPower is listening, I'd love a 3U version of this UPS with quiet fans.
Here's how it looks in the rack afterward: